Sagging, hanging skin can appear in many places in the face and body, and be exacerbated by aging or weight loss. Renaissance Medical Aesthetics offers Thermage CPT  on the body, face, eyes and bod, and Fraxel Restore to eliminate sagging, loose skin in the jawline, neck, and abdominal area .
Fraxel is the world's most advanced and trusted skin rejuvenation system. This revolutionary laser can dramatically improve the quality of the skin, with results you can actually see and feel.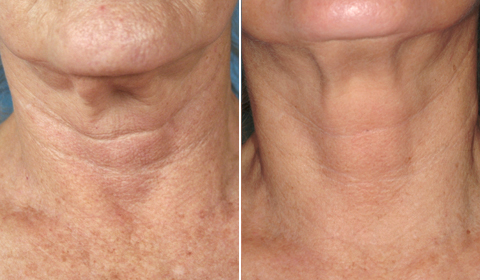 The highly sophisticated Fraxel Restore laser stimulates healthy new skin to replace aged or damaged skin, giving your skin a fresh new start. Fraxel treats multiple skin concerns simultaneously, all leading to the same result: healthier, smoother, more youthful looking skin.
Fraxel is one of the most advanced laser treatments for skin available today. Fraxel is used to treat sun damaged skin, uneven pigmentation, and fine lines in just a few painless treatments. The Fraxel® family of products includes the Fraxel Restore Laser System, the Fraxel Repair Laser System, the Fraxel Refine Laser System, and the Fraxel Restore Dual System. The Fraxel line has quickly become the industry standard for fractional aesthetic skin treatments. Unlike traditional laser devices, Fraxel brand fractional laser systems treat only a fraction of skin at a time, leaving the surrounding area intact resulting in greater skin tightening and reduced downtime.
Fraxel lasers have received multiple FDA clearances and have been found safe and effective in treating many areas of the face and body. The versatility of the product line ensures that patients can choose the best treatment for various stages of their lives as their skin care needs evolve and change.
Wrinkles around the eyelids, melasma/brown spots, pigmentation, texture and pore size, acne and surgical scars are common imperfections can make the skin look uneven and old. Fraxel Restore, which restores collagen structure, reduces these skin imperfections to help you show your healthy glow, thus presenting itself as the best technology for resurfacing the skin of all skin types.
Call us at Renaissance Medical Aesthetics to schedule your complimentary fraxel consultation.