Thanks to modern technology, it is now possible to have a successful and natural-looking face lift without the cost, time, or physical risks and inconveniences inevitably associated with traditional surgery.  OC Med Spa provides the latest and most efficient techniques of non-surgical face lifts and each treatment protocol is generated with the patients unique concerns.  Some of these procedures aim to heat the skin below the dermis layer in order to boost collagen production and reshape existing collagen by utilizing infrared or radiofrequency to produce a tightening and uplifted appearance of the skin.  These procedures are minimally invasive, remarkably efficient, and virtually pain-free.    For decades, the favored treatment of sagging skin or deeper wrinkles has been surgical face lift.  However, surgical face lifts can often create a "tight or pulled" appearance that starts to look unnatural after the second or third treatment.  Non-surgical face lifts have shorter recovery periods and lowered risk of post-operatory infections and complications.
Thermage is the most recognized technology today when it comes to non-surgical face lift.  At OC Med Spa our patients come from Anaheim, Tustin, Villa Park, Irvine, Newport Beach and other orange county communities to achieve long-lasting and natural looking results.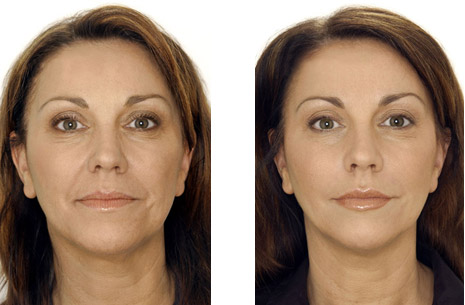 Things to consider when you are deciding between surgical and non-surgical facelift options.
How safe is the non-surgical facelift as compared to the traditional one?
Any invasive surgical procedure poses the risk of scarring, infection, paralysis, anesthesia complications. In some cases further surgery or medical treatment is necessary to treat the complications of the initial surgery. Recovery time with traditional surgery is 1 to 2 months and powerful pain medications are often required. With non-surgical face-lift, you may experience minor bruising, swelling, and redness which subsides within just a few days, after which you are able to return to your normal daily activities.
No pain killers are needed.
What is the difference in the end result?
The results of surgical facelift last for many years. The results are frequently too dramatic and you no longer look like yourself. One unpleasant aesthetic result is looking like you have had plastic surgery. Because surgical alterations are permanent, they are impossible to reverse. In contrast, the non-surgical facelift will last 1 to 2 years and this will increase with regular touchups. While the results are powerful and effective, they do not alter your natural look. You will look younger, but not "artificially" so. And because you are able to monitor and control the procedure, the chances that you will be happy with your end result are significantly higher than with traditional surgery.
What about price difference?
A traditional facelift costs $5,000 to $8,000. If complications are encountered, the expense is much higher. Non-surgical facelift starts from $ 800, depending on your unique needs, the cost will be determined during your initial free consultation.